Posted on
October 17, 2021
in
Prototype Testing
Natural Frequency Test
Servo Hydraulic Vibratory Damper Test System
Precision system with controlled rotary actuator through servo hydraulic system.
Damper Hub is mounted on rotary actuator and represents the actual mounting condition.
Rotary actuator is excited through a servo value with known excitations.
Two accelerometers are mounted in phase, one on actuator and the other on Damper inertia ring. Which in turn acts as closed loop circuit.
The excitations exerted by the actuator are captured by the accelerometers.
As the ring is separated through elastomeric member there is a difference in phase between the excitations of two sensors.
At resonance the difference in phase is exactly 90 deg. Which determines the Natural frequency of the damper.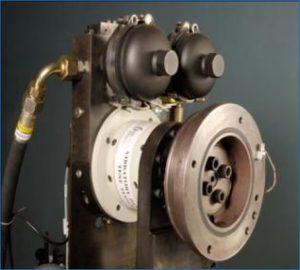 ---
Axial Pull Test
Damper is mounted onto the fixture.
A force transducer is placed onto the damper.
A precisely controlled press is used to find out the axial force & the adhesive strength of the damper.
An indicator is connected to transducer and the maximum value is displayed.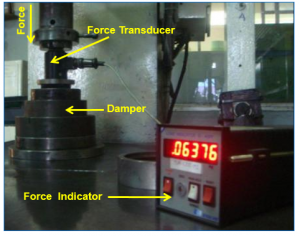 ---
Slip Torque Test

Torque applied under static condition on the damper elastic member by fixing either inertia ring or hub & gradually displacing the other to measure the Torsional bonding strength of the rubber element under assembly.
Damper Hub is mounted onto torque lever.
Damper Ring is fixed onto the torque transducer.
Torque is applied gradually onto the damper hub.
The amount of torque exerted is indicated by an indicator.
Sudden drop in the torque reading indicates slip between hub & ring.

---
Burst Testing
Damper is mounted onto locator through a motor.
Damper is run at 2.5 times the rated RPM of engine for 2 minutes.
Test is carried out to find out the structural integrity of the cast part and bond integrity of elastomer and the metal parts.
Shift in correlation mark is checked before and after test.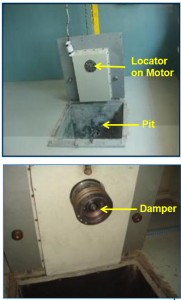 ---
Hooke's Joint Test
Viscous damper is excited on Hooke's joint with angular excitation.
Temperature rise of the damper casing is measured.
Temperature rise should be linearly or gradual rise with respect to time.
Hooke's

Angle

Angular

Displacement

10 °
0.438 °
11 °
0.531 °
12 °
0.633 °
13 °
0.744 °
14 °
0.864 °
---
Torsio Test Rig
Damper mounted on rig and excited manually.
Decay in the amplitude level of the given excitation is monitored.
If decay in amplitude level observed, damper is functionally acceptable.
If damper ring is seized no decay in amplitude level is observed.